Mission and History
Serving Denver's Multifamily Industry for Over 50 Years
History of AAMD
In 1968 the Colorado Apartment Association Denver Chapter was formed by a small group of local apartment owners who felt it necessary to protect their interests as small business operators.
On March 18, 1968, approximately 75 apartment owners met at the Heart of Denver Motel to discuss organizing an apartment owners association. At the March 25th meeting, Robert Whittlesey was unanimously elected President, Paul Jones as Vice President, A.A. Keith Second Vice President and Neil Richardson as Secretary-Treasurer.
The budget was discussed, and it was determined they would need approximately $6,000 per year for operating expenses! The membership dues were a whopping $25 per year (which included NAA Dues) and dinner meetings were held at various restaurants at $4 per person!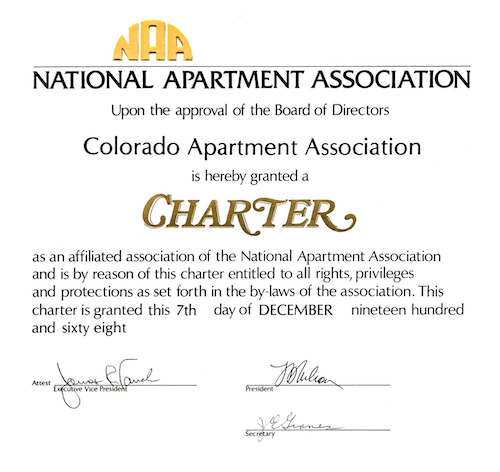 AAMD officially became chartered with the National Apartment Association on December 7, 1968, and a few years later, renamed itself as the Apartment Association of Metro Denver (AAMD), and established itself as a 501 c 6 trade association.
Focusing on the principles of free enterprise and providing quality housing for those that choose to rent, the association has through the years held off many legislative issues that would have had negative impacts to our industry. Over the decades the association has continued to develop and enhance the level of professionalism of operating rental housing. Beyond the fundamental role of apartment living advocacy, the association has evolved into a powerful training entity through incredible volunteerism from industry experts. Long time members have continued to brand the organization as AAMD.
It didn't take long for the Association to expand its membership to supplier companies. Through enormous opportunities and functions, supplier members have gained access and promotional platforms through AAMD. Providing great financial and volunteer support, the AAMD supplier members have evolved into a great asset of the organization.
---
Mission Statement
The mission of AAMD is to enhance member and association prosperity and professional growth through legislative representation, educational advancement, information, and networking opportunities.
"The purpose or purposes for which this corporation is formed shall be to promote the multi-family rental housing industry in the Denver metropolitan area, to seek improvements in the techniques of ownership and management, to establish and maintain high professional standards and sound business practices, and to work and cooperate with other organizations and individuals for the improvements and advancement of the multi-family housing industry. The corporation is dedicated to equal opportunity housing and is committed to non-discrimination of housing based on race, color, creed, religion, sex, familial status, handicap, or national origin." - (AAMD Bylaws)
We Strive To...
Maintain a strong association which is responsive to the member's needs
Provide instant apartment industry information through appropriate delivery methods
Provide professional networking opportunities among many types of AAMD members.
Develop a positive relationship with communities and government and protect association members from intrusive legislation.
Provide for public understanding and support of our industry.
---
Past Presidents
1968-1970: Robert A. Whittlesey
1970-1971: Irwin Horwitz
1971-1972: Larry A. Mizel
1972-1973: John M. Fahrenkrog
1973-1974: R.J. Fulscher
1974-1976: H.C. Van Schaack III
1976-1977: William J. Ash II
1977-1978: Paul S. Miller
1978-1980: Harry B Mossgrove
1980-1981: Ray Baker

1981-1982: Douglas R. Allen
1982-1984: Steven D. Ira
1984-1986: Tom Karaffa
1986-1987: Dennis Malone
1987-1988: David Phifer
1988-1989: Dale McCombs
1989-1990: Peter Kudla
1990-1991: Bruce East
1991: Jim Cauley
1991-1993: James Ross Murphy
1993-1994: N. Earl Warren
1994-1995: Sandy Drago
1995-1996: Mark Snyder
1996-1997: Barbara Mitchell
1997-1998: Mary Wessler
1998-1999: Tom Smith
1999-2000: Rhonda Hansch
2000-2001: Lauren Brockman
2001-2002: Rhonda Hansch
2002-2003: Melanie Murphy
2003-2004: Don Werner
2004-2005: Mike Fiorillo
2005-2006: Mark Windhager

2006-

20

07:

Drake Powell

2007-

20

08:

Sharon Ingram

2008-

20

09:

Rex Gambrell

2009-

20

10:

Jennifer Nessett

2010-

20

11:

Cherie Shaw

2011-

20

12:

Meredith Wright

2012-

20

13:

Rocky Sundling

2013-2014:

Don Werner

2014-2015:

Mary Wessler

2015-2016:

DJ Longo

2016-2017:

Derek Avery

2017-2018:

Brandon Rich

2018-2019: Mike Holt
2019-2020: Scott Kirkwood
2020-2021: Janelle French
2021-2022: Angela Fletcher