Apartment All Stars 2020 (virtual)
The Apartment All Star experience is like no other event you will attend!
---
Wednesday, September 9, 2020
10:00 AM - 12:00 PM (MDT)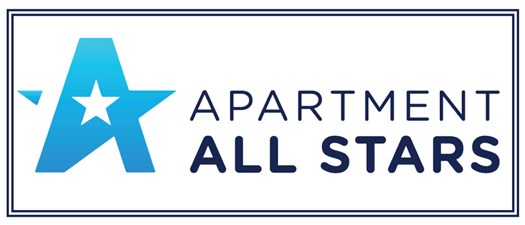 The Apartment All-Star Experience (VIRTUAL)
 is like no other virtual education event you will attend this year. The unique blend of three national speakers at one time creates an energy force that will be exciting, motivating, relevant and fun! The reason is that this is not just a seminar, Apartment All-Stars is an event. This dynamic tour has been igniting the leasing and marketing arena for more than 10 years and can't wait to deliver new content in a new interactive virtual format.
Kate Good, Rommel Anacan and Lisa Trosien will headline Apartment All Stars 2020 and leave attendees motivated and ready to implement new ideas! Attendees at an Apartment All-Stars event describe the program as "cutting edge", the ideas as "brilliant" and "easy to implement" and the day as "extremely motivating" among other superlatives.
All Star Sessions
Idea Factory:
This is the fastest 40 min in property management. Buckle your seatbelts as the All Stars present the hottest ideas in leasing, marketing and service in an "idea a minute" format. That means in 40 min you will hear close to 40 ideas that could be the factor in making your 2020 your most successful year ever. It only takes one great idea to achieve ROI on the cost of admission and we kick off the day with bang!
Redefining Service in the Age of the Never Satisfied Customer 
Are there days that it feels like no matter how hard you try it is increasingly difficult to keep your customers happy? There is a reason for that. Our customers expectations have changed and in some cases it may be easier than ever to create raving fans. You just have to know why there has been a shift in customer satisfaction and what you can do about it. This session will include exploring Gen Z, the largest generation ever who will soon be occupying our apartments. Don't miss this opportunity to take your customer service efforts to 2020 status.
How to Have Difficult Conversations (That Don't Make Things Worse!)
The multifamily housing industry is filled with difficult conversations. Whether it's with an upset resident, an underperforming employee, a vendor who isn't doing things the way you need them to be, or that co-worker that drives you crazy, you can be sure that almost every day will present you with an opportunity to have a difficult conversation. 
You'll learn how to have difficult conversations without:
Making the issue worse
Bulldozing the other person
Being bulldozed by the other person
Getting sidetracked and not dealing with the issue
And/or causing damage to the relationship. 
This is an absolutely CRUCIAL communication skill that everyone could benefit from!
More to come!
---
For More Information
Please contact Lisa Godbehere at lisa@aamdhq.org or (303) 329-3654.