Apartment All Stars 2022
The Apartment All Star experience is like no other event you will attend!
---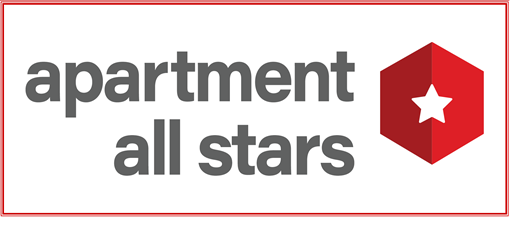 The Apartment All-Star Experience
is like no other education event you will attend this year. The unique blend of four national speakers at one time creates an energy force that will be exciting, motivating, relevant and fun! The reason is that this is not just a seminar, Apartment All-Stars is an event. This dynamic tour has been igniting the leasing and marketing arena for more than 10 years!
Bill Nye, Kate Good, Jen Piccotti and Lisa Trosien will headline Apartment All Stars 2022 and leave attendees motivated and ready to implement new ideas! Attendees at an Apartment All-Stars event describe the program as "cutting edge", the ideas as "brilliant" and "easy to implement" and the day as "extremely motivating" among other superlatives.


---
TOPICS INCLUDE
The Art of Selling
Presented by: Lisa Trosien
Really great salespeople know that selling is genuinely an art form. This class examines the small, essential details that can take you from good to great in just 60 minutes! Whether you're a Leasing Professional or an Industry Partner, you'll leave with amazing new sales skills that will set you apart from the competition.
The finest salespeople use empathy, persuasion, body language, and more to establish their credibility while gaining their customer's trust. We will cover those and more to take your closing to a higher level than ever before. No gimmicks – just skills and techniques to help you advance your career, make more money, and be even more successful!
Power of Gratitude: Better Results With A Team Committed To Your Culture
Presented by: Bill Nye
Everyone is talking about the "great resignation" and the shortage of workings, but very few people are talking about solutions or why people are leaving their jobs in droves. We are going to talk about it in this session. We will discuss why it's happening and what you can do about it today. Nothing discussed in this session will add any costs to your business, but it will require your time, attention and awareness.
Today is the day you can begin to build a unique culture that will make your team stronger than ever and as a result you will have a better customer experience and improved bottom line.
Understanding the residual effects of your conversations.
The Power of perspective.
How to develop a deeper connection with your team.
A different kind of transparency.
Getting your team to "buy-in"
What the World's Best Bosses Know About Leading Teams
Presented by: Jen Piccotti
Nobody sets out to be a horrible boss. Yet, about half of workers who voluntarily quit their jobs do so to get away from a manager they don't respect. What's going on? In this session, you'll learn:
The secrets to earning the enthusiasm, best efforts, and loyalty of the associates you lead
The types of rewards and recognition that employees are asking for right now
How to be the best boss (and co-worker) for new hires
Skills to start building to be ready to step into a supervisory role
All Star Sessions
Idea Factory
What the World's Best Bosses Know About Leading Teams
The Power of Gratitude: Better results with a team that is committed to your culture
The Art of Selling
More to come!
---
For More Information
Please contact Lisa Godbehere at lisa@aamdhq.org or (303) 329-3654.