Back to Events
Event Details
Leveraging Gr8 Ideas!
9:15-10:15AM EVERY MORNING
Innov8 is an education event that will take a deep dive into innovation, technology, the new virtual world, sales and marketing, communication, leadership and how it all impacts multifamily. Join us one hour per day for one week. INNOV8 will provide new insight and ideas in a fun virtual environment. Register your teams today!

MANAGEMENT COMPANY ALL ACCESS PASS $1,925.00
The Innov8 Management Company All Access Pass allows management companies to send an unlimited number of attendees to this event (regular pricing - $2,925.00).
Register by April 16, 2021 to take advantage of early bird pricing!
---
FEATURING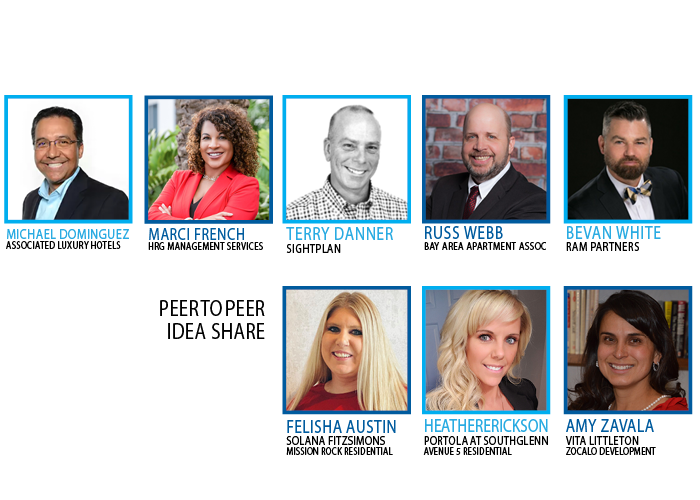 SESSION DETAILS
PLATINUM Sponsors

**Information on sponsoring is available below**
---
Sponsorships Available
Presenting sponsor recognition throughout event
Five (5) Virtual Admissions
Exclusivity within sponsor category
Feature mic time (2-3) minutes each morning
Opportunity to introduce featured speakers
Opportunity to appear in conference marketing video
Opportunity to submit two (2) 30 second video ads
Logo recognition on marketing materials
Logo recognition on AAMD landing page
Logo recognition on slide deck & virtual background
Three (3) on screen prize giveaways
Recognition in Trends Magazine
List of Attendees provided at conclusion of event
Two (2) Virtual Admissions
Opportunity to submit one (1) 30 second video ad
Recognition on marketing materials
Recognition on AAMD landing page
Logo recognition on slide deck & virtual background

Gold sponsors logos will be featured on designated event day

Company introducetion by committee

Must be submitted in writing. Will be read by Innov8 committee member

One (1) on screen prize giveaway (Friday, April 30)
Recognition in Trends Magazine
List of Attendees provided at conclusion of event
---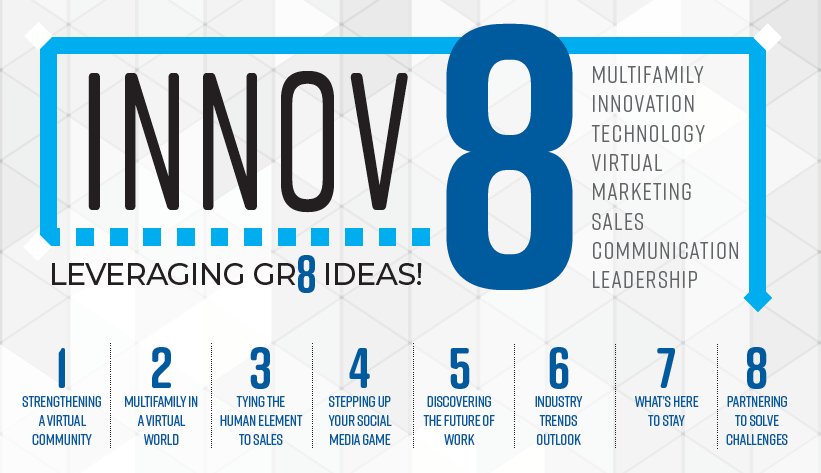 INNOV8 AGENDA
OPENING KEYNOTE: TECH TOOLS FOR SUCCESS
WITH RUSS WEBB
APRIL 26
STRENGTHEN YOUR VIRTUAL COMMUNITY
WITH FELISHA AUSTIN, HEATHER ERICKSON & AMY ZAVALA
APRIL 27
CERTAINLY UNCERTAIN – PREPARING FOR A DYNAMIC 2021
WITH MICHAEL DOMINGUEZ
APRIL 28
THE MOST TECHY, RESEARCH FOCUSED, INSTA-LOVING GENERATIOn OF RENTERS YET!
WITH MARCI FRENCH & BEVAN WHITE
APRIL 29
CLOSING KEYNOTE: THE STATUS QUO IS WAY TOO SLOW
THE ROLE OF INDUSTRY LEADERS TO PARTNER AND PUSH THE OPERATIONS ENVELOPE
WITH TERRY DANNER
APRIL 30
---
For More Information, contact:
Lisa Godbehere
lisa@aamdhq.org | (303) 329-3654