2020 Colorado Maintenance Olympics
Education, Competition & Celebration of Maintenance Professionals!
---
Wednesday, August 12, 2020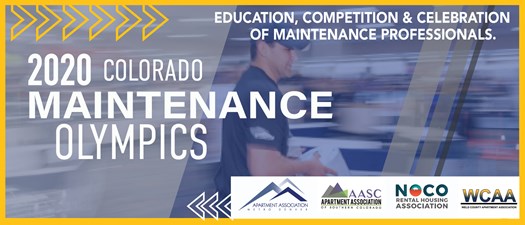 THE live, in-person EVENT IS ON!
ADHERING TO THE CDC AND STATE OF COLORADO GUIDELINES FOR GATHERINGS
We are excited to have the opportunity to offer Maintenance Olympics in 2020!  To adhere to the CDC and state of Colorado Guidelines for indoor gatherings, we will be breaking the attendance into three, three hour attendance waves:
WAVE 2:  11:00am - 2:00pm
WAVE 3:  2:30pm - 5:30pm
EACH ATTENDEE WILL FOLLOW A SCHEDULE WHICH INCLUDES:

1/3 of the time in the Exhibit Hall
1/3 of the time in an Education Class
1/3 of the time on the Competition Floor (including race cars).
Attendees will be assigned groups of no more than 75 people with social distancing measures in place.
---
EXPAND SECTIONS BELOW FOR MORE INFORMATION: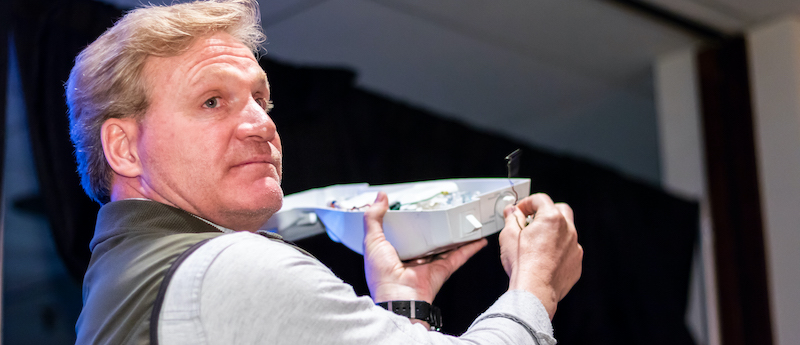 PANEL: How to Build Scope of Work & Managing the RFP Process
Chris Beno, Nick Hernandez, Chris Price, Lannon Quintana, Jeff Harmon 
(Moderated by Tyson Witkamp, Interstate Restoration)
First Company Aqua Therm Systems: Trouble Shooting and Service
Peter Buche, Buche & Associates
While in Education Seminars, attendees will be separated by at least 6 feet and the rooms will be disinfected between each session.
Each attendee will spend approximately one hour in competitions which include:
Race Car - bring your race car to race against your peers
Toilet Repair
Light Fixture
Ceiling Fan
Plunger Toss
"Grounds Pick Up"
Mirror Cleaning
Note, this event will not be a National Qualifier this year, though it is still a great opportunity to practice and have some fun. 
CLICK HERE FOR COMPETITION DESCRIPTIONS

Attendees will be provided gloves on the competition floor and all equipment will be disinfected between competition sessions.
This event could not be possible without the support of our Sponsors!  They look forward to seeing you and giving you a social distance appropriate greeting at their booth!
PRESENTING SPONSORS
Torch Sponsors:
Appliance Factory Warehouse
FastSigns
Green is Greater
Maintenance Supply Headquarters
Master Rooter Plumbing
Gold Sponsors
Arbor Contract Carpet
Colorado Premier Restoration
Endeavor Exteriors
imADgine Studios
Integrity Electrical Solutions
M.E. Training
Overhead Solutions INC
The Home Depot Pro
Venturi Restoration
Wyatts Towing
Sponsor booths will be separated by at least 20 feet and there will be a one-way aisle down Vendor Row.
COVID-19 SAFETY GUIDELINES
To ensure the health and safety of all attendees, sponsors and staff, the following guidelines are in place for this event:
Admission will be limited. The event capacity will be

 

under 25% the capacity of the venue
Attendees will be required to enter at one of three separate entrances to encourage social distancing
Vendor booths will be separated by at least 20 feet and there will be a one way aisle down Vendor Row
Masks will be required of all attendees, and gloves will be provided during competitions
Competitions will be held outdoors and equipment will be

disinfected and sanitized

between each wave of attendees and will be outside 
 Presenting Sponsors:

TORCH SPONSORS:
Appliance Factory Warehouse
FastSigns
Green is Greater
Maintenance Supply Headquarters
Master Rooter Plumbing
GOLD SPONSORS
Arbor Contract Carpet
Colorado Premier Restoration
Endeavor Exteriors
imADgine Studios
Integrity Electrical Solutions
M.E. Training
Overhead Solutions INC
The Home Depot Pro
Venturi Restoration
Wyatts Towing
---
 For More Information
Betty Knecht
betty@aamdhq.org | 303.329.3300