Month of August Covers Through the Years
Date posted
September 2, 2021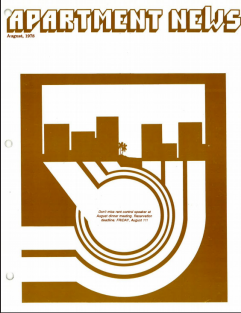 AUGUST 1978
The best art (and yes, that includes magazine covers) is definitely subjective and open to interpretation by the viewer. Perhaps there is no other issue in the Trends archives that illustrates this better than this offering from August 1978. We're not sure exactly what this design represents or how it relates to a presentation about rent control, but it is no doubt striking. If any of our readers have any interesting ideas about what this image means to them, we would love to hear them!

AUGUST 1980
This message from August 1980 rings as true today as it did when this cartoon was first penned. AAMD (then known as CAA-MD) relies on your referrals to help increase our membership and drive the industry forward. If you do know of any companies or property owners that would benefit from membership, please direct them to www.aamdhq.org for further information and help in signing up. The Association sincerely appreciates you all in helping make our membership efforts successful.

AUGUST 1982
The world loves a party! While AAMD has no current plans for any Octoberfest celebrations, please keep an eye on our calendar for upcoming events that you may be interested in. We are back in the swing of in-person events, and would love to see you at any one of our upcoming special events, classes, or conferences.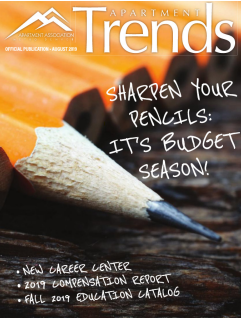 AUGUST 2019
This 2019 issue is more recent than many we have included in this retrospective, but this was a great time for AAMD. This issue celebrated the NAA Apartmentalize conference that had just taken place in Denver, listed many great classes offered by our Education department, and contained a recap of that years June Awards.