Month of July Covers Through the Years
Date posted
August 4, 2021

JULY 1971
The July 1971 issue featured another illustration by the unknown artist who was featured on several covers around this time, which stands out nicely compared to the far more common geometrically designed images of the era. The inspiration for this rustic drawing of apartment
community is unknown, but it is interesting to imagine that it might still be operating as a rental property today, 50 years after publication.

A lot has changed in that time, but AAMD is honored to have members that have been a part of our Association for half a century now. Please see the Milestones section (pages 20-21) of this issue for a list of some of our longtime members that have helped shape the Association into the organization that it is today.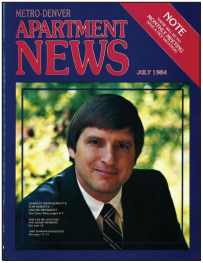 JULY 1984
The 1984 issue marks the beginning of what has become a July tradition for the Association's magazine in years since, as a cover portrait of the newly elected president (in this case Tom Karaffa) marks their debut in this leadership position.
While not all roads lead to the presidency, we always encourage our members to become more involved in association activities. For a fast way to get started, please consider joining a committee – the full list of current opportunities can be found at www.aamdhq.org
JULY 2002
July 2002's issue featured a cover photo showing volunteers for AAMD's annual "Spring Clean" day, as improvements were made to a local apartment community in need. This long-standing community service program has gradually been expanded into our Apartments Giving Back campaign, which has raised and donated over $50,000 over the past three years.

JULY 2003


During this anniversary look back at past issues of Trends, it is interesting to come across acknowledgments of other milestones that the AAMD has celebrated in the past. In this issue's letter from then-president Don Werner, he encourages readers to reach "back to a world where gasoline is37 cents a gallon and a first class stamp is 6 cents..." Those were long-ago ideals when this issue was published, and of course even longer ago now – but one thing that hasn't changed in all that time is that AAMD is still here to protect the interests of the rental
housing industry.