Trends at 50: April Issues through the Years
APRIL 1971
By all accounts, specifically the memo on page one, this issue was the introduction of Apartment News as a monthly magazine with very few graphics (contained only in ads) and information about legislative issues like warranty of habitability, zoning, rent strikes and more. It should be noted that Standard Paint (now Standard Inteiors) advertised a free 6 pack of Coke (and free balloons and candy for the children) with each gallon paint purchased.
---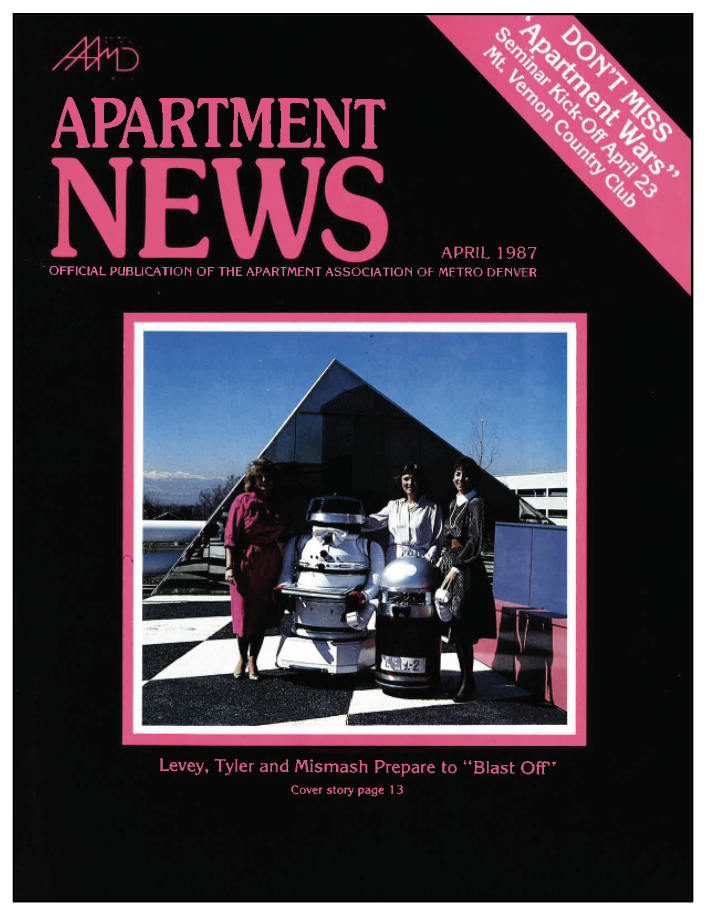 APRIL 1987
Carol Levey led a "Out of this World" Trade Show kick off party at Mount Vernon Country Club, where it was promised attendees would be greeted by "Fame" - the alien robot pictured on the cover.
Attendees were encouraged to come in costume as their favorite space creature, and noted that the cover image featured the "same old story - too many women and not enough robots to go around." Classic Carol.
---

APRIL 1992

After a by-the-book eviction became a media nightmare, this issue took a look at the different angles of the issues - including an overview of how to handle media encounters and build constructive relationships with reporters.
Additionally, NAA announced their 1992 Convention in Denver which was chaired by three current AAMD Hall of Famers (David Phifer, Steve Ira and Carol Levey).
---
APRIL 1999
In the late 1990s and 2000s, the April issue of Trends was often dedicated to promoting AAMD's biggest event- by featuring sponsors, speakers or committees of the event. This issue featured the 1999 Trade Show featuring Paul Noveshansky, Jack Luscombe, Reed Rice and Mark Windhager among others- surrounded by computers to promote the "Solutions for 2000" themed show.