Back to AAMD Store
Renters Rights Magnets (25-pack)
Resources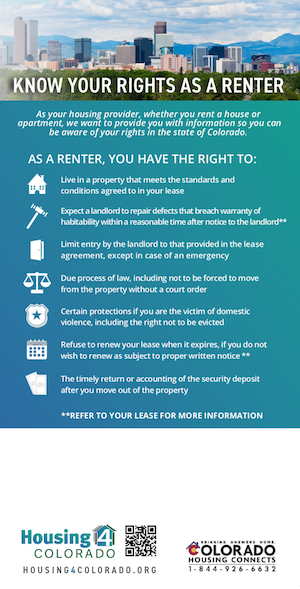 These informational magnets, entitled "Know Your Rights as a Renter," are intended for your tenants' reference, and meant to be placed on the side of a refrigerator or another convenient area inside an apartment home. We recommend placing the magnet before a new resident has moved in so you can point it out to them as a part of welcoming them to your community.
These magnets are one component of an important PR and education campaign and in conjunction with the launch of Housing4Colorado.org, a brand-new resource for current residents and prospective tenants which includes user- friendly details about their rights and responsibilities. As public policy discussions continue around issues ranging from construction to rent control, we are committed to proactive engagement with our members and their residents to enhance education and transparency as a renter.
The magnets include a section of blank space, (approximately the size of a standard mailing label) for your customized use. Please feel free to utilize this space to include any other information specific to your community such as your logo, phone numbers, etc.
We hope you find these to be a helpful tool to show you care about your residents. The magnets are just one piece of a broad scoped effort to reach tens of thousands of renters across Colorado to educate them on issues pertaining to rental properties and the overall housing market. We encourage you and your residents to visit Housing4Colorado.org to learn more about our latest efforts, and to stay in touch in the months ahead.
---