Back to AAMD Store
Tributes Presenting Sponsorship
Tributes 2023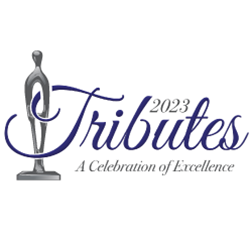 Early Bird Pricing Available Through 10/31/22
---
Be a Presenting Sponsor of the Multifamily's Biggest Event of 2023
Benefits Include:
2023 Tributes Event Planning Committee
Member-at-large position on Tributes event planning committee.

 

Ability to attend meetings and aid in the fund raising and sponsorship recruitment for the event.

Opportunity to have company representatives (up to two) greet Tribute Finalists during the week of judging

Signage and recognition during Tributes Judging Week
Pre-Tributes Marketing Benefits
Feature logo on 2023 Tributes print and digital marketing

Feature article posted on AAMD website covering company information and past Tributes involvement.

 

Feature logo on all Tributes-related emails.

Feature exposure on Tributes page of AAMD Web site

Feature exposure on Tributes Web Site

Logo sponsorship in footer of AAMD website (2023)

Authorized use of the 2023 Tributes logo for promotional items, i.e. business cards, letterhead, etc (through 2023)
Trends Magazine 
Full Page color ad in all 2023 issues of Trends
This ad may be created and designed by your company or an outside firm.

 

The contents of the ad may or may not be related to Tributes at the discretion of your company.

 

Recognition as Presenting Sponsor in all Tributes-related content in Trends Magazine.
The design, size of ads, and placements of this additional recognition will be at the discretion of AAMD.
One feature profile article about your company
Mutually-agreed upon issue in 2023.

 

Content must be provided to and approved by AAMD 1 month prior to publication.

 

Cover photo and logo representation for one of the key promotional issues of Tributes (October 2023).

 


Up to two representatives from your company will be included in a sponsor photo on the cover of Trends. Issue is subject to change.
Feature recognition in post-event issue of Trends Magazine including your logo and picutures of your team at the event.
2023 Membership Directory 
Full Page Color recognition page of the Event featuring your company as the co-presenting sponsor of Tributes 2023
Supplier's Council
AAMD 2022/2023 Supplier's Council Sponsorship

Ability to provide a gift for all property management panels at the suppliers council
2023 Tributes Event
Opportunity to open the event with remarks from the stage to open the event.

Opportunity to air a company commercial at the beginning of the event
Up to 60 seconds.

 

Production not included.
Four (4) Diamond Level tables and 32 V.I.P. tickets to the event.
Additional tables may be purchased at a 10% discount (through July 1, 2023)

Complimentary list and seating chart of 2023 attendees provided prior to event.

Opportunity to present up to three (3) Tributes awards.
Your company will receive first pick of which category for these awards.

Opportunity for final remarks from the stage to close the event.
Featured Logo Representation on:
All promotional materials including but not limited to AAMD Budget bags and Tributes Chocolate bars

Call for Entries (digital & printed)

Event Ticket (digital & printed)

 

Event Program

Event Signage

Screen media displays and multimedia production
Tributes After-Party
Naming rights to a signature drink at the After Party

Featured Logo Recognition at signature bars (at party)
Feature Logo on Drink Tickets

 

V.I.P. Drink Tickets for Attendees

 

Feature signage at the After Party

 
Other AAMD Events
2 complimentary tickets to the following:

 


Sponsor will track and notify Association of attendees well enough in advance of event not to affect attendee guarantees etc

2023 Economic Conference Livestream

2023 Summer Economic Conference

2023 Chili Cook Off

 

Speaking opportunity at the following AAMD Functions:


Sponsor will track and notify Association of Speaking Dates

2023 (1) Spring Networking Luncheon

2023 (1-2) AAMD Board Meeting(s) (general)

2023 Trade Show (key breakouts)

2023 Tributes Event (multiple presentations)

One (1) other AAMD Event that does not have a competitor

for the Presenting Sponsor (based upon availability)

Exhibitor Sponsorship at all Networking "Power" events (up to 6) in 2023.
---