AAMD Hosts Successful Maintenance Celebration Event
Date posted
April 19, 2019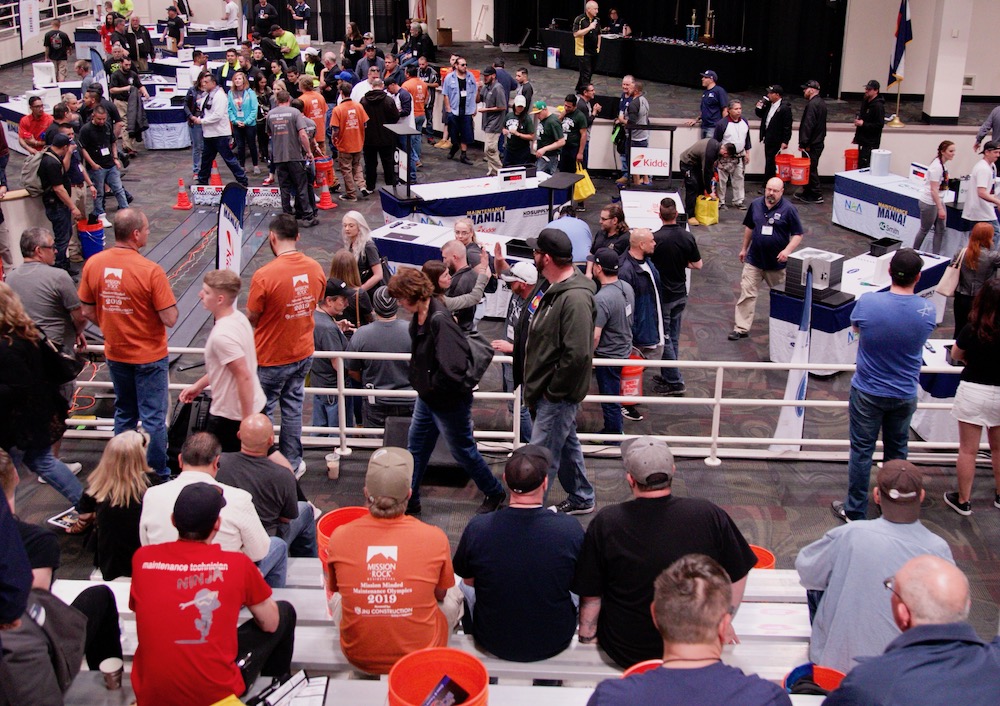 On April 18, the Apartment Association of Metro Denver celebrated the 20th Maintenance Olympics at the Denver Mart. Over 1,800 maintenance service technicians and apartment industry leaders from across the state gathered together for a day of competition, fun and educational seminars in celebration of the maintenance profession in the multifamily housing industry.
"Maintenance Olympics serves as a testament to the fantastic work of a too-often overlooked segment of our industry – our maintenance workers," said Mark Williams, executive vice president of the Apartment Association of Metro Denver. "The men and women who make up metro Denver's maintenance professionals are among the hardest-working and most skillful workers in our region. We are honored to have the opportunity to highlight their important work with such a fun and fulfilling day, and thank all who joined in on the fun."
The first Maintenance event took place in Denver in the year 2000 and hosted a few dozen apartment maintenance professionals. It has since grown to over 70 Maintenance Mania™ events across the nation with tens of thousands of people participating and competing for spots in the National Maintenance Mania competition held annually.  This year's national Mania event will be hosted in Denver on June 28, in conjunction with the National Apartment Association's Apartmentalize conference and trade show.
The event was generously sponsored by HD Supply and RediCarpet Sales of Colorado, and many other apartment industry supplier partners. "HD Supply and its leader, Ed Schell, have been a part of the event from the beginning" said Williams. "Ed and his team are really the backbone behind this special program, and have helped grow it each year".
Attendees and participants received hands-on education with training in air conditioning installation, appliance repair, and more. Former Broncos running back Reggie Rivers and former Maintenance Director-turned-American Ninja Warrior Brian Arnold provided uplifting, motivational speeches for participants.
Maintenance Team Competition
Overall Best Scores
Bronze:  Greg Diehl, The Metro Apartments
Silver: Matt Chavez, 5151 Downtown Littleton
Gold: Lannon Quintana, Cardinal Group
Kidde Fire & CO Alarm Competition
Bronze:  Meghan Gebhart, Cardinal Group Management
Silver:  Shane Diehl, Commons Park West
Gold:  Lannon Quintana, Cardinal Group Management

 
Race Car Competition
Bronze: Keri Felton, Cardinal Group Management
Silver:  Lannon Quintana, Cardinal Group Management
Gold: Mike Ramsey, Lex at Lowry
AO Smith Water Heater Replacement
Bronze: Matt Chavez, 5151 Downtown Littleton
Silver:  Justin Diehl, The Douglas
Gold:  Michael Perez, Poet's Row
Smart Comfort Air Conditioner
Bronze:  Greg Diehl, The Metro Apartments
Silver: Lannon Quintana, Cardinal Group Management
Gold:  Shane Diehl, Commons Park West
Fluidmaster Toilet Repair
Bronze:  Greg Diehl, The Metro
Silver:  Matt Chavez, 5151 Downtown Littleton
Gold:  Lannon Quintana, Cardinal Group Management
Frigidaire Icemaker Competition
Bronze:  Justin Diehl, The Douglas
Silver:  Lannon Quintana, Cardinal Group Management
Gold:  Matt Chavez, 5151 Downtown Littleton
Kwikset Key Control Competition
Bronze:  Matt Chavez, 5151 Downtown Littleton
Silver:  Justin Diehl, The Douglas
Gold:  Lannon Quintana, Cardinal Group Management
Smart Burner Heating Element
Bronze:  Isaiah Hernandez, Cardinal Group Management
Silver: Justin Diehl, The Douglas
Gold:  Lannon Quintana, Cardinal Group Management
Office Staff Competition
Smart Comfort Air Conditioner
Bronze:

 

Callie Draper, Greystar Real Estate Partners
Silver:

 

Devyn Nagao, Cardinal Group Management
Gold:

 

Isaiah Hernandez, Cardinal Group Management
AO Smith Water Heater Replacement
Bronze:

 

Shannon Cole, Cardinal Group Management
Silver: Isaiah Hernandez, Cardinal Group Management
Gold:

 

Lindsey Bedinfield, Cardinal Group Management
Kidde Fire & Co Alarm Competition
Bronze:

 

Nick Morrison, Cardinal Group Management
Silver:

 

Samantha Stallings, Line 28 @ LoHi
Gold:

 

Lindsey Bedinfield, Cardinal Group Management
Icemaker
Bronze:

 

Samantha Stallings, LoHi Gold Apartments
Silver:

 

Keri Felton, Cardinal Group Management
Gold:

 

Nick Morrison, Cardinal Group Management
Heating Element
Bronze:

 

Nick Morrison, Cardinal Group Management
Silver:

 

Peralta Conception, The Metro Apartments
Gold:

 

Keri Felton, Cardinal Group Management
Key Control
Bronze:

 

Devy Nagao, Cardinal Group Management
Silver:

 

Nick Morrison, Cardinal Group Management
Gold:

 

Samantha Stallings, LoHi Gold Apartments