AAMD Announces Education Conference on July 28
The theme, logo, date, location and speakers of AAMD's biggest event has been announced!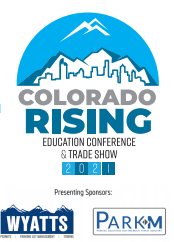 This event is expected to be the culmination of AAMD's "Transition Back" to regular, in-person events. While this remains a single-day event, it has been super sized to include two general sessions in an all new schedule format.
The conference will be held on Wednesday, July 28, 2021 at the Colorado Convention Center.
Two incredible speakers have been tapped to present at AAMD's Conference!
Conference Kickoff with Jan Spence

Jan Spence is a high energy, enthusiastic speaker who is back at AAMD's signature event by popular demand! You won't want to miss the Conference kick off with Jan Spence who will set the tone for a fun, motivating and educational day for you and your team!
Keynote Luncheon with Erik Wahl

Eric Wahl is an Internationally recognized graffiti artist, speed painter, and a #1 best selling business author and entrepreneur. Erik will deliver "The Art of Vision" keynote address over lunch.
Registration is now open for the conference at www.aamdhq.org.
Hall of Fame & Board Installation to Take Place July 28
Each year, AAMD traditionally recognizes volunteers, inducts new Hall of Fame members and installs the Board and Leadership at June Awards. Due to a busy June, all of this will occur during the two general sessions at Colorado Rising: Education
Conference and Trade Show!
RediCarpet and FIRST ONSITE (formerly Interstate Restoration) are returning as Presenting Sponsors
of these "events within an event"!
Admission to the general sessions are included in the price of the Conference on July 28 at the Colorado
Convention Center.