Sustainable Apartment Living
Increase your rent and resident retention with sustainable apartment living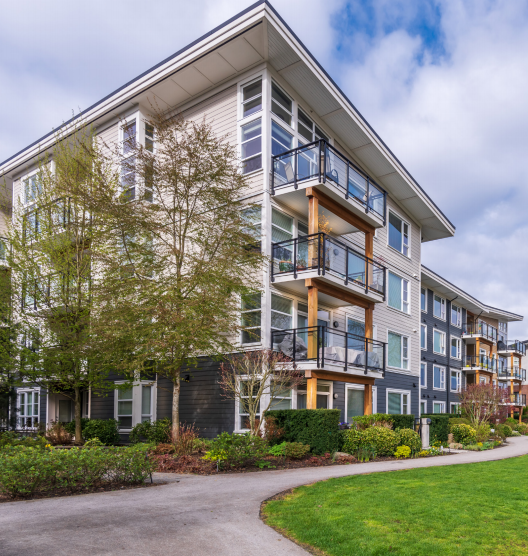 When a property can present creative ways to make residents' lives
easier, it can be a valuable form of relationship-building. Millennials and Gen Zs, in particular, are increasingly energy conscious, so offering an eco-friendly and sustainable apartment living experience can give your property an edge over the competition.
Today's renters have come to expect a level of sustainable features in their apartment home, from on-site recycling to energy-efficient appliances, in addition to more unique features like sustainable
landscaping and bike-sharing stations.
According to AMLI's 2020 Sustainable Living Index, 83 percent of renters consider living in a green community as beneficial to their
health. Energy-efficient utility savings, smokefree living, and fresh air initiatives are among the top three green features. Plus, due to the COVID-19 pandemic, 71 percent of renters place an increased value on sustainable apartment living, especially considering 41 percent said they will be working from home in 2021.
From short- and long-term investment returns to increased resident retention, there are many benefits to going green. Some studies even show that occupancy rates can rise up to 23 percent higher for LEED apartments.
Below, we have compiled a few tips to make your property more eco-friendly and potentially add to your bottom line:
Lower Construction and Maintenance Costs
It's no secret that sustainable living can lower energy and water bills. What is lesser known is that green features can increase durability measures, thus reducing long-term maintenance costs through improved moisture management.
Efficient design can also lower construction costs by avoiding excessive waste and material use. For example, efficient construction techniques eliminate non-essential materials and provide structural integrity, which can provide more room for insulation and reduce costs.
Consider Eco-Friendly Transportation Options
Apartment features should go beyond smart thermostats and door locks to deliver amenities that will enhance the quality of residents' lives. According to Bloomberg, more than half of new car sales will be electric by 2040. The rise of EV sales is prompting many companies to install chargers in their parking lots and garages — including multifamily properties.
Several studies have also demonstrated that apartments and buildings near public transportation are often more valuable than similar properties without close access to rail lines, subways, and bus routes. Green homes within walking or biking distance of stores and popular attractions can also command higher rent, resident retention, and higher resale value.
For example, many communities are also offering covered bike storage for their residents' convenience and to reduce greenhouse gas emissions. Some properties are also prioritizing onsite fitness studios, business lounges, and game rooms to prevent residents from having to drive off community grounds to access these
activities.
Save Water
Owners can also limit storm runoff, lower irrigation costs, and landscape maintenance, and lessen the impact on waterways through sustainable site development practices. Additionally, water-efficient designs often lower owner costs for outdoor and common areas, as well as resident utility costs.
Smart irrigation controllers ensure your plants are watered and verify that your systems are performing correctly. There are also opportunities to use native plantings and replace turf with drip irrigation.
Improved Air Quality
By using sustainable materials and new installation techniques, the building can benefit from enhanced indoor air quality and lower transmission of sound and odors between units. Eco-friendly construction methods and materials also reduce contaminants introduced into the apartment air thanks to low levels of volatile organic compounds in sealants, coatings, paint, and adhesives.
Further, some apartments are promoting high air quality by automatically tracking and adjusting temperature and humidity for occupants. Automatic temperature adjustments reduce the need to heat or cool an apartment by utilizing tempered air from outside. This not only helps increase resident comfort and create a healthy living environment but also enhances energy efficiency.
Smart Lighting
While energy-efficient lighting is an essential sustainable feature, multifamily properties can kick it up a notch with smart lighting. What if your residents could wake up to a soft natural light that gradually increases in the morning and decreases to a warm glow in the evening? Your multifamily property could install similar smart lighting features in your units, to promote resident health and wellness.
If smart lighting is outside your budget, consider retrofitting your property with LED lights. Using LEDs for common-area lighting is one of the most cost-effective measures for a property and can provide great returns.
Prepping Your Property for a Sustainable Future
From refrigerators that monitor residents' hydration levels to smart homes that analyze a unit's air quality, technology is continually advancing and making it easier for apartment communities to incorporate green features into their units.
Sustainable living not only promotes healthy lifestyles but also increases energy efficiency and cuts costs. As a bonus, your property does not always have to break the bank to integrate sustainable design into the property. Residents increasingly desire sustainable living in their everyday, and the multifamily industry is in a
great position to benefit financially from this rising demand.
Ashley Tyndall is the Chief Relationship Officer at Criterion.B Agency and Swiftly.