Denver area apartment rents slightly up, vacancy slightly down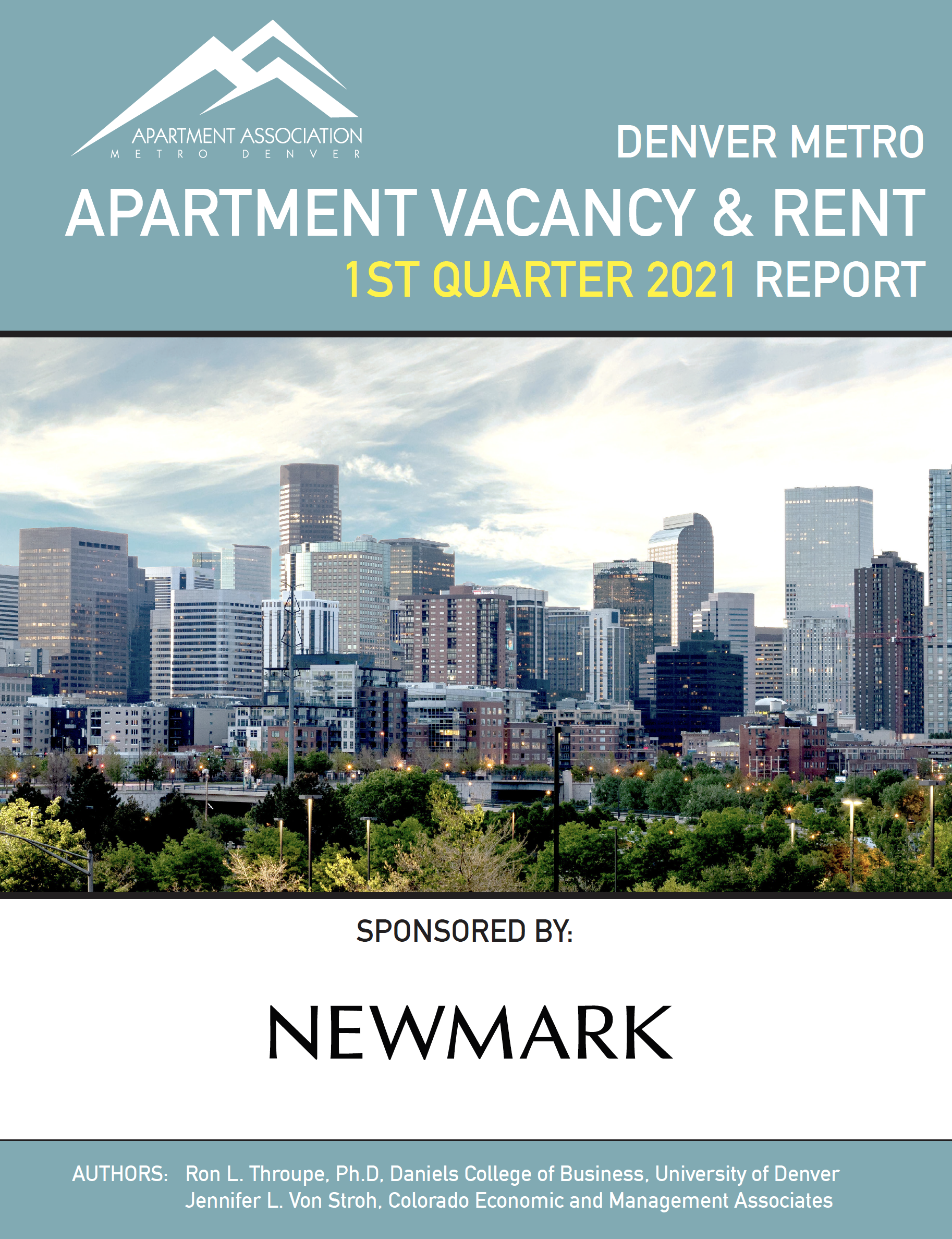 The Apartment Association of Metro Denver's quarterly report on vacancy and rental rates shows a 2.2% uptick in average rent and a slight decrease in vacancy for the first quarter of 2021. The average monthly rent in the Denver metro area is $1,544, compared to $1,510 one quarter ago.
"This slight increase is very typical for the first quarter", explained Mark Williams, executive vice president for the Apartment Association of Metro Denver. "Over the past 10 years, the Q1 rent increase has averaged a very predictable 2.2%."
Compared to before the COVID-19 pandemic began, year-over-year average rent is almost completely flat – only an $8 monthly difference from this time in 2020.
"In an environment where finding the right housing can be challenging, stability in apartment rents is good news for renters," Williams pointed out. "While apartment rents have stabilized over the past couple of years, single family home prices have increased at least 15% year-over-year. Apartments are still the most affordable, the most convenient, the most environmentally green way to live."
While gas prices have increased over 33% since this time last year and food, cable TV, internet, and travel costs are on the rise, apartment rents have gradually leveled off. This may be temporary, though, because there are a host of new legislative and regulatory proposals that will increase the cost of affordable housing in the near future. At this time, nearly one-third of the cost of rent is driven by regulation. The Colorado Apartment Association has identified seven pieces of state legislation, three local initiatives and two proposed city ordinances that will increase rent rates in Colorado.
The vacancy rate tightened slightly to 5.5% compared to 5.8% last quarter. Economic vacancies increased to 14%, which is the highest since the second quarter of 2018. Economic vacancy includes discounts and write offs, so some of this increase could likely be attributed to the pandemic and subsequent impact.
Rental discounts and concessions were 7.9% for the first quarter, up from 4.4% last quarter.
The median (midpoint) of rent is $1,483 in the Denver area.
There are over 371,000 apartments in the metro Denver area. According to Apartment Insights, there are nearly 27,000 more on the way. Apartment Insights' new construction report shows over 140 apartment communities are in some stage of construction. Most of these developments will be completed in the next two years. Newer apartment construction is spread across the metro area and offers a long list of great locations and amenities for future renters. The Denver Metro area remains a great place to invest as residents continue to view Colorado as a desirable place to live and work.
"Metro Denver's multifamily market has left behind the effects of the pandemic and re-established its course of sustained growth, with vacancy at pre-COVID levels," said Terrance Hunt, Vice Chairman of Newmark. "We believe that the second and third quarters will experience continued strong rent growth, as the spring and summer months generally outperform winter months in Denver's seasonal rental market."
"This market continues to show resilience – seasonality is back for the third year in a row with slow going from December through January," said Scott Kirkwood, regional vice president of multifamily services group at Griffis Blessing, Inc. "Spring rental activity has picked up across all submarkets by the end of the first quarter. We see strong trends in April heading into the second quarter."
About the Metro Denver Vacancy and Rent Report
The quarterly Vacancy and Rental Rate Report is authored by Ron L. Throupe, Ph.D. of the University of Denver Daniels College of Business, and Jennifer L. Von Stroh of Colorado Economic and Management Associates. The report has served as the most reliable source for comprehensive apartment data and analysis for 40 years and is made possible through the ongoing participation of the apartment industry and coordination through the Apartment Association of Metro Denver, in partnership with Newmark Global Real Estate Services.