10 Analytics Tools For Multifamily Marketing
Date posted
April 30, 2021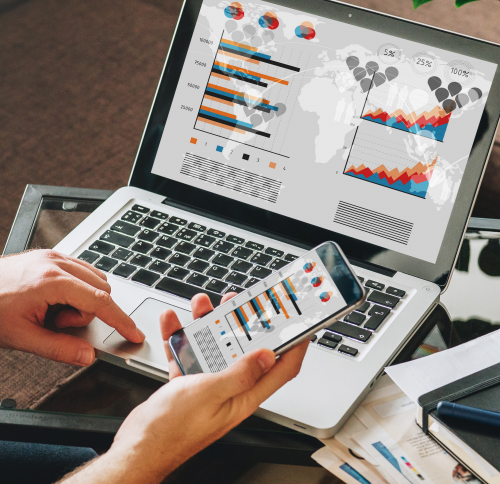 Today, almost all multifamily marketing efforts revolve around a digital strategy. Whether it's monitoring your property's online presence or using new software to collect data on your target audience, it is critical to stay ahead of the marketing technology (martech) curve.
While some of these martech tools specialize in either automation or analytics, elect to combine them on a simple user dashboard. Marketing analytics and automation are two categories that will increase ROI and integrate
marketing efforts on all touch points in your consumer decision-making process.
What Do We Mean ByMultifamily Marketing Analytics?

There is not usually a one-to-one correlation between ad dollars spent and revenue when it comes to advertising. So how can you prove that your efforts are actually worth it? Marketing analytics is the measuring and analyzing of your marketing mix to track your return on investment (ROI). Luckily, in our digital marketing-driven world today, we have more resources than ever to collect these analytics in order to not only back our
marketing strategy but also increase our ROI.
Here are some of the most valuable analytics:
1. HubSpot
HubSpot is the ultimate tool for inbound multifamily marketing, a technique used to pull consumers in through content marketing, social media, and search engine optimization (SEO). This application publishes and analyzes almost all forms of digital channels including email and websites. HubSpot also allows you to build blogs and landing pages to increase ROI for your small business.

2. Google Analytics

Google Analytics is a free application that enables you to see data from many different touch points. The platform allows you to see a complete picture of your consumer's journey. With Google Analytics, you can track customer behavior, channel performance, acquisition, and more. Analytics data can then be used to create paid boosts through Google such as Google ads and AdWords.
3. Hotjar

Hotjar is the best way to see what visitors are interested in on your website. Using heatmap technology, you can see where your page has the most clicks, track movement, and see how far your users scroll. This tool also allows you to split data based on different devices that visitors have used to view your site.

4. SEMRush

Search engine optimization (SEO) is critically important for any multifamily organization. However, multifamily SEO can be difficult to understand, even for experts in digital marketing. A software tool like SEMRush makes it easy and manageable for those without SEO knowledge so you can boost valuable website traffic, increase your Google search ranking, and earn more leads. With SEMRush, you can track your competitors to see where their websites rank, find target keywords, and 35+ other valuable tools to enhance your multifamily SEO efforts.
5. Google Optimize
Google Optimize enables you to put your data insights to the test. Integrated fully with Google Analytics, this tool gives multifamily marketers the opportunity to test their analytics efficiently on a simple platform. A/B, multivariate, and redirect testing is easily created and deployed with Google Optimize's visual editing interface. Then, the app pulls the data from these tests, allowing you to maximize your target reach, impressions, and engagement.to see where their websites rank, find target keywords, and 35+ other valuable tools to enhance your multifamily SEO efforts.
6. Cyfe

With Cyfe, you can monitor and analyze data across several online touchpoints including social media, email channels, websites, and multifamily SEO all on one platform. This app is integrated with more business systems than any other business insights product, so you can easily schedule social media posts and track your multifamily marketing efforts. Cyfe also functions as a project management tool to keep your team on track with deadlines, tasks, and projects.
7. MailChimp

MailChimp is a marketing automation tool that creates email campaigns and partners with Google Analytics to track e-commerce sales. The tool also allows you to sync data from Facebook, Twitter, Salesforce, Google, Shopify, and SurveyMonkey to optimize your feedback on many different channels. With MailChimp, you can tailor your target audience and receive analytics to optimize your reach with variables such as when to send emails, testing subject lines, and automatically
8. Keyhole

Social media marketing is necessary in today's apartment industry, and Keyhole is a simple analytics tool used for Twitter, Facebook, and Instagram. The dashboard tracks hashtags, keywords, and competition on these sites, then pulls historical data from the beginning of each of your property's social accounts. While Facebook, Twitter, and Instagram all have their own business insights and analytics dashboards, they are somewhat limited when it comes to analytics over extended periods of time. Use Keyhole to track and compare all of your social media analytics in order to continue to grow consumer engagement.
9. EZ Texting

EZ Texting is a tool to send mass SMS texts that include options like reminder campaigns, picture messaging, and analytics. EZ Texting allows you to track engagement as well as information on your contacts to stay up-to-date and relevant with your target. Additionally, EZ Texting's new tool, EZ Chat, is a customization
tool that allows a personalized one-on-one conversation with a resident to improve customer service.

10. Viar360

Virtual reality is one of the fastest growing trends in multifamily marketing today. Viar360's content management system is a tool that allows companies to create VR content with a simple drag-and-drop function. Viar360's analytics creates insights into the renter's journey through the content, which areas attract the most attention, and consumer analysis based on demographics, geography, and different devices used to access your content
Ashley Tyndall is the Chief Relationship Officer at Criterion.B Agency and Swiftly