Instagram 101: Engage Your Residents and Increase Your Followers
Date posted
April 13, 2021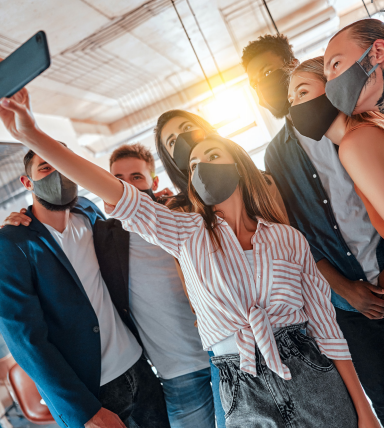 Much like people, each social media platform has its
own personality, and through it, its own specific use.
Facebook is more visual, personal, and explanatory — ideal for establishing your property as a helpful
resource and engaging with residents. Think of it as your storefront greeter, pleasant and professional, as well as a source of daily news.

Twitter is more terse and efficient, allowing properties to pass along news-like updates and make connections within a larger community of businesses. Think of the classic newsboy, spewing the latest headlines.

Then there's Instagram. Instagram is an oddball in the social media world, if not due to its overly visual style. Widely popular among the millennial and Gen Z demographic, Instagram mimics Facebook from the standpoint that our focus shifts back to resident engagement. It has a single function (picture-sharing), which makes it highly visual and a great platform for conveying the personality of your resident community. Instagram is that aunt that shows you photo albums of her cat, but way cooler.

Understanding Instagram Marketing for Apartments

With Instagram, users have several formatting options for editing pictures or even videos. Driven by the freedom to format, as well as a quick-scrolling mobile platform, Instagram is among the most interactive
social networks. For multifamily properties, it's an excellent tool for branding and resident engagement.
Over 1 billion people use Instagram every month, and of those 1 billion people a significant percentage are the target demographic for many apartment communities nationwide. Here is a quick look at the age-demographic breakdown of Instagram users in the U.S.:

• Ages 18–24: 75%
• Ages 25–29: 57%
• Ages 30–49: 47%
• Ages 50–64: 23%
• Ages 65+: 8%

Instagram is a great social media platform for apartment communities because it allows you to showcase the neighborhood, city, and visual elements of your property. From promoting your property amenities and luxury features to posting about community events and local happy hours, Instagram marketing offers plenty of ways to engage and inform your residents.
3 Ways to Use Instagram in Your Community Marketing
Be Consistent & Think Visually
Because Instagram is such a visual platform, how your feed looks, your profile image, and your
daily posts and Stories matter almost as much as (if not more so) than your actual captions.
Everything needs to have a consistent look and feel. Consider what you want your aesthetic to
be. Do you want to have a luxurious feed? A bright white feed? Do you want your images to mimic the overall color hue of your brand colors?
Set a strategy for this and work with a digital marketing agency, graphic designer, or social
media specialist to create consistent filters to be used on all of your images. Moreover, you should only use high-quality, clear images on your feed. Nothing makes a resident hit the unfollow button quicker than fuzzy, cluttered, or unprofessional images.

Mix Up Your Content
When it comes to your everyday resident communications, consider how can you create
visual interest. Are you opening the pool this weekend? Share an armchair view! Are you prepping for a resident event? Show them! Are there cupcakes in the lobby or amenities your
residents are not taking advantage of? Make sure you're sharing the imagery.
Before you start, however, make sure you know what tone or personality you want to convey, and which property features you want to highlight.
Keep in mind that as residents begin to share pictures of your property on Instagram (see point
#3), those photos also appear on the newsfeed of their followers. While it might not be on brand
with your tone or personality, your community will most likely benefit from this exposure.
Engage the Resident Community
With millennials as the most active user base on Instagram, multifamily properties should
consider how they can use the platform to create opportunities for engagement and content creation. Inviting your residents to participate in an Instagram contest is perhaps the simplest
way to do so.
Create a call-to-action for your residents to submit pictures: "Share your poolside pictures
this month for a chance to win a gift card!" Offer an incentive for participation. Establish a timeline. This achieves a number of goals — people engage with your page, residents are creating content for you so you are not constantly looking for photos to snap, conversation and
interest is sparked so people will continue to keep up with your page. It is a win all around.