Multifamily Marketing With TikTok
Are your apartment communities on TikTok? Here's how this exceptionally popular app can boost your online presence among multiple generations of renters.
Over the past 18 months we have seen an increasing number of businesses switch to online operations, and many including the real estate industry took to an unlikely platforms: TikTok and Reels.
According to official data provided by the platform, 42 percent of TikTok users say they're using the app to discover new things, from dance trends and songs to lifestyle hacks and pranks, and even multifamily listings—the hashtag "apartment" has 1 billion views, while "real estate" has nearly 6 billion views. What's more, 57 percent of respondents said they have been inspired to make a purchase or choice by something they saw on TikTok or Reels.
 
Stats
Officially launched internationally in 2017, TikTok had nearly 700 million active users as of January 2021 and is on track to surpass 1 billion active users worldwide by the end of 2021—that's nearly 13 percent of the total world population. This app has user loyalty too, with over 90% of users visiting the app 4 times or more a day!
Short videos created on applications such as TikTok and Reels have allowed Smart to market our properties and lifestyle in a much more relevant way, to a broader audience.
Many might still think these platforms are just for dancing and lip-syncing, and although that could absolutely be part of the mix, the biggest takeaway is using video to "info-tain" someone in less than 30 seconds. The possibilities are endless, not only for prospects but for the existing residents as well.
Tell A Story
Showcase your listings' personality and combine it with your company's culture. Put together a narrative that draws the viewers closer to their dream home. Replicate the feeling of familiarity by telling stories about a building's past, whether you opt for doing it in 10-, 30- or 60-second videos.
The best-performing videos we have found have approximately 17 seconds, so consider going short and focus on the property's features and benefits in each video. You could also focus on pain points for prospective residents or the ones existing residents face, such as how to use certain amenities or how to apply online. Getting to know the team members is also a great idea.
Your Audience Are Your People! Engage With Them!
 
The app allows you to have a two-way dialogue with the users interested in your listings. You can engage with them by commenting on their videos, sharing their content on your own page, as well as replying to comments or mentions on your own.
Remember, these apps are built with gamification in mind, so the algorithms are driven by how much you interact with a brand account, and how much other accounts interact with you.
Keep Posting
It's important to have a frequent and regular posting schedule in order to keep potential renters interested in your brand. At Smart we post daily in the Feed on Instagram and strive to post daily to Stories in Instagram and three Reels/TikTok's a week following the blueprint we created.
 
Put A Face To It
Getting comfortable with having your face on camera makes a big difference. Turns out your audience wants to see you and other humans, so getting your team on camera or even you can make a big difference in engagement and overall exposure of your content. Long story short, fancy highly edited videos performed the worst and best performing videos are where you can see people having fun or simply and quickly showcasing the feature or benefit.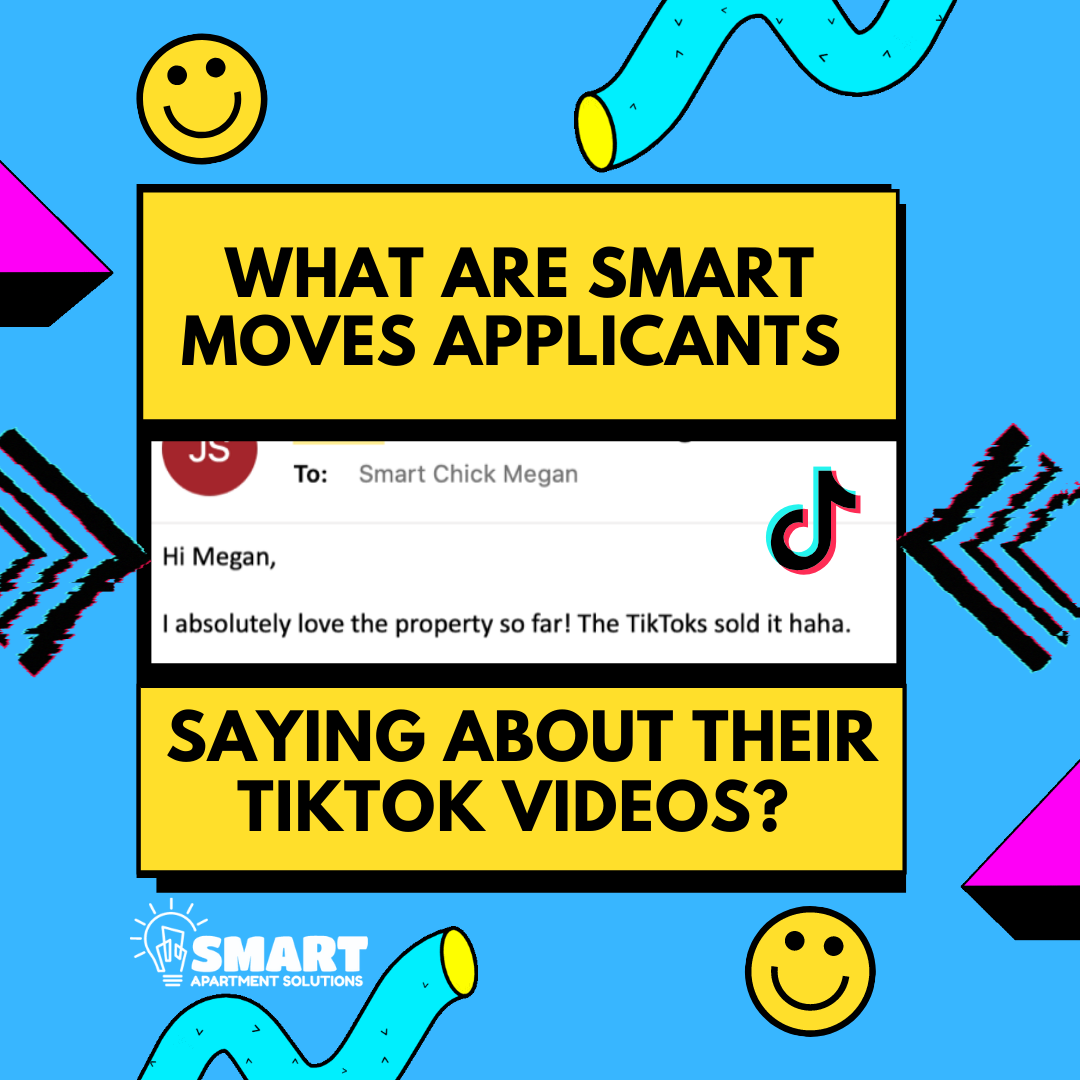 Explore These Powerful Tools
TikTok offers users a wide array of tools to spark interest in a creative way. Property managers can play with different video formats ranging from Q&As to Duets.
At Smart, we have had the most success with repurposing the videos from our virtual tour library and utilizing the Duet or Remix functions, as well as the Green Screen effect, which allows the video of the tour play behind you.
Creative content can also be shared by pairing a fast-paced apartment tour with popular music. The resulting TikTok video is an interactive package, with available listings in a certain market, accessible to everyone browsing through the multitude of listings on the app.
Additionally, TikTok's analytics section is a highly helpful tool. Once you set up a Business Account, you have access to the Business Creative Hub and essential insights into your audience's engagement with the content you post. And by using a combination of organic and paid content you'll be able to boost your TikTok presence and establish connections across the platform.
Smart Tip
Create your videos in the TikTok app and when you post it, you can copy and paste the video link into platforms like SnapTik to remove meta data and the TikTok watermark. Then you can natively upload the video file to Instagram Reels, Facebook, LinkedIn and YouTube.