AAMD Celebrates 25 Year Partnership with Family Homestead
Date posted
February 22, 2016
Estimated 6,000 families positively impacted since 1991
Since 1991, the Apartment Association of Metro Denver has partnered with Family Homestead, a Denver charity that assists struggling families in transitioning out of homelessness.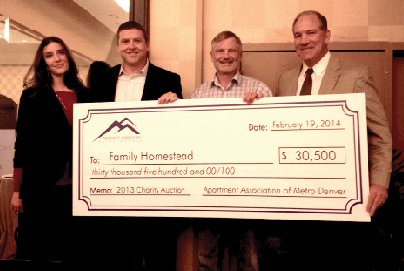 Over the 25 years the Apartment Association of Metro Denver has been involved, it is estimated they have raised over $500,000 in funds through its annual Charity Auction that go towards supporting the transitional system through Family Homestead, which has supported an estimated 6,000 families.
By combining efforts, struggling families from various backgrounds are given second chances in life at both keeping their children safe and getting their feet back on the ground. Rather than providing a free handout of an apartment or overnight shelter, Family Homestead directly aids its tenants in learning to live in independent housing while the parents strive to develop a source of income.
The Apartment Association of Metro Denver will host a Charity Auction this Thursday, February 25th at Mile High Station. All proceeds from the event go to supporting this wonderful safety net and coaching system that is Family Homestead.
To ensure that Family Homestead is aided beyond monetary contributions, AAMD also allocates time to the organization. Every spring season brings with it the AAMD Spring Clean, in which property managers, maintenance staff and vendors come together to clean and fix up the exteriors and playgrounds that attract families to these facilities.
"Though it's hard to put a dollar value on donated labor and supplies, I'm guessing AAMD volunteers have provided nearly $125,000 in maintenance and improvements through Spring Clean," said Les Jones, Executive Director for Family Homestead.
The Apartment Association of Metro Denver is among the largest multi-family housing trade associations in the country, representing and supporting over 200,000 apartment homes in Denver.