AAMD Shining A Light On Member Philanthropic Work
Date posted
December 10, 2021
The multifamily housing industry is unique by nature, as it provides a primary need – housing. Not only that, but apartment communities, owners and management companies spend tens of thousands of dollars and thousands of hours contributing to the needs of their community in different areas of their cities and with a variety of charities and non-profit organizations.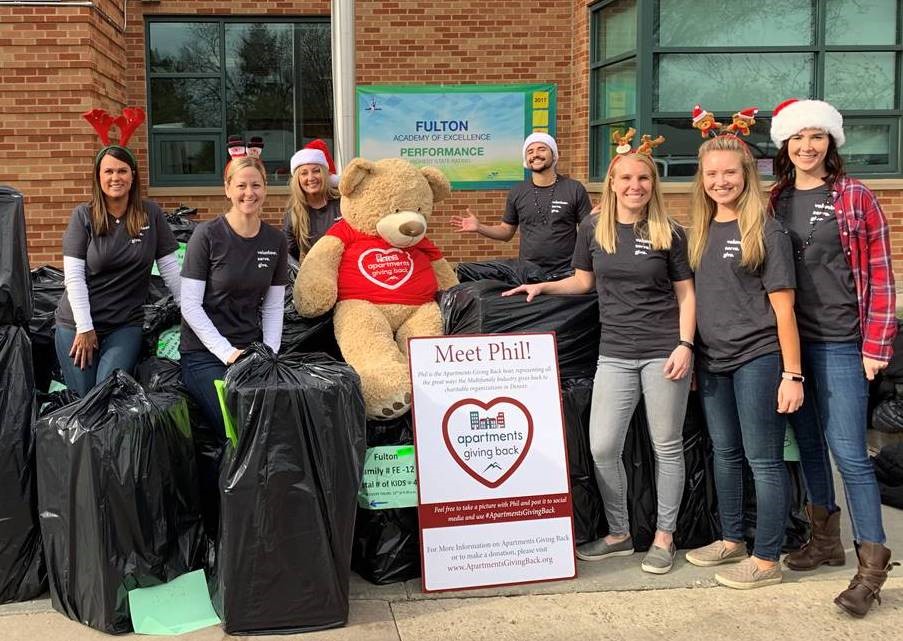 In 2019, AAMD launched "Apartments Giving Back", a community service initiative with several goals and objectives:
Shine a positive spotlight on our industry: Our goal is to in part enhance the perception of our industry with a favorable and positive spotlight on our members and AAMD.
Promote the philanthropic efforts of AAMD members: Our goal is to regularly showcase member projects & programs, highlighting the good our industry is doing.
Raise money for a variety of charitable organizations: AAMD is making a more concerted effort to contribute funds directly to the community through charitable donations. Since the beginning of AGB, AAMD has raised and committed over $120,000 to various local charities.
Logo and Website

Our simple and powerful logo with a heart represents the outreach of our industry. It illustrates we're more than a building, more than just a home for over a million Coloradans- it's the heart of giving back to our local communities through different organizations.

Our AGB website has been updated to further shine a positive light on the industry, and the good works - as it shows the quantity of members who give back, and the large number of charitable organizations that are supported. The website features powerful stories of how our members are giving back throughout the year.

Apartments Giving Back Events
Earlier in December, AAMD hosted our annual Charity Event, with 80% of the net proceeds will be donated to Family Homestead. Over the course of our partnership with Family Homestead, AAMD has raised over $600,000 to benefit the families who need transitional housing. Thank you so very much to everyone who attended (see photos in this issue) and especially to Arbor Carpet for their long standing support and Presenting Sponsorship of the Charity Auction.
In 2022, AAMD will offer Apartments Giving Back Day! While Family Homestead, the organization AAMD has supported for over 30 years – will still be a big part of this day of service, Apartments Giving Back Day will offer additional projects for several other organizations in need of volunteers.

AAMD Person of the Month
Recognizing that it's not just businesses giving back, but also individual members who personally support charities, Apartments Giving Back gives volunteers the opportunity to choose which organizations to support.

Each month AAMD recognizes a volunteer who has gone above and beyond (Person of the Month) and AAMD donates $500 to a charity of their choice through the Apartments Giving Back program.

Getting Involved
The success of our next AGB Phase depends on you! We are looking for more stories of hope and outreach - you'll find stories in the pages of this issue and on our website. The more stories the better we can make our industry shine!

This Spring, we soon be recruiting volunteers to sign up for Apartments Giving Back Day on June 10. Formally called "Spring Clean", we will be partnering with Family Homestead communities and other like-minded organizations to provide a day of community service. We encourage you to plan ahead and volunteer your team to participate (which makes for a great team building activity!)

Additionally, we are continually seeking donations for AGB so we can continue to give back to organizations that our members care about. Our goal is to double the number of charities impacted by the program and raise even more money to give back.

This issue is full of wonderful stories of what our industry has done since the COVID pandemic began. Thank you for submitting your articles and we're looking forward to spotlighting even more in 2022.