Denver Rising: Breaking the Mold Non-Traditional Options in Apartment Living
Date posted
October 7, 2022
For this issue we will step away from the traditional apartment communities that we normally feature to address some non-traditional trends that are breaking the mold in the rental market. We will focus on three properties that represent the most popular development types, including the build-to-rent community of Amber Creek, the conversion of an office building at Notable, and the co-living community at X Denver.

Build-to-Rent (BTR)
One of the most talked about trends in the apartment world recently has been the build-to-rent (BTR) phenomenon. Though slightly different, similar concepts include single-family rentals (SFR) and build-for-rent (BFR). These variations include townhome rentals, paired-home rentals, and the rental of separate, individual homes.

Although we don't view this as completely new to the rental market (apartment properties have included rental townhomes for decades), interest in this property type has increased as the price of single-family homes have spiked, causing fewer people to be able to afford homeownership. BTR also appeals to younger renters that can't afford to purchase a home but want to start a family. In addition, as baby boomers have started downsizing, they like the idea of a rental type that is more familiar to their single-family lifestyle than traditional apartments, plus provides the flexibility of maintenancefree living.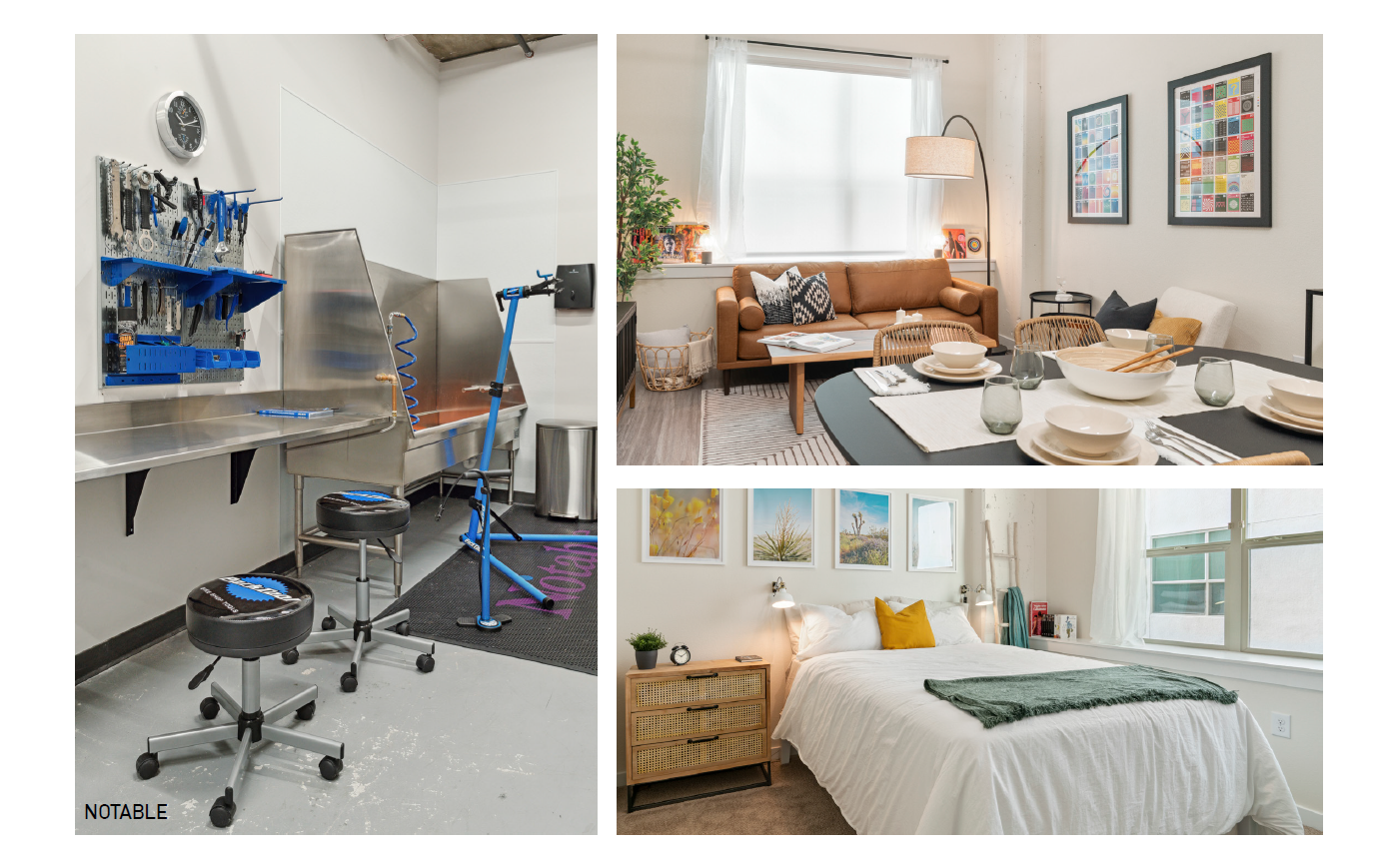 While we anticipate this trend will continue as home ownership remains less attainable, we believe most BTR product will be developed in peripheral suburbs such as Brighton, Commerce City, Frederick, Firestone, Fort Lupton, Windsor, Johnstown and other rural areas where land is less expensive. AA&C is currently tracking approximately 40 true build-to-rent communities, plus an additional 20+ communities that are adding a townhome BTR component. We have discovered that these properties are harder than others to identify in the pipeline because they often are indistinguishable from for-sale homes through much of the entitlement and development process. It would not surprise us to find additional communities currently under construction.
Conversion (Adaptive Reuse)
We have also seen an increase in properties being converted from a prior use to apartment rentals, also known as adaptive reuse. Recently, we have seen an increase in the conversion of office buildings, hotels, and motels, although there are other property types being converted throughout the Denver Metro Area, as well.
Adaptive reuse has become more common as construction costs have continued to increase, making traditional development more expensive. In some cases, conversion may cost less than building from the ground up. However, if a developer is not careful, the costs of conversion can also explode, making it much more expensive than traditional ground up construction. Conversion can also be easier to get approved, especially in antigrowth areas because adaptive reuse helps stop urban spawl. Further, because developers are already using an existing structure, conversion can help provide a quicker development timeline, but again there are also risks of unforeseen issues slowing the development of a converted property.
Historic preservation is another reason why developers may choose to convert rather than build from the ground up. In general, most current adaptive reuse properties in the pipeline are affordable because the tax credits often allow conversion to be feasible where a conventional property might not pencil.
Examples of adaptive reuse include:
Pancratia Hall, the conversion of a 90-year-old former dorm and classroom building in the Loretto Heights redevelopment area into affordable housing.
Caraway, an office building conversion in Adams County, by Maiker Housing Partners.
Mount Calvary Senior Housing, the conversion of the sanctuary building at an old church by Boulder Housing Partners into an age-restricted, affordable apartment community.
Co-Living
While co-living has historically been viewed as student rental product, The X Company has created its own trend in the urban core with 455 existing units at X Denver, another 410 units under construction at X Denver 2, and an additional 344 units at the planned X Denver 3, for a total of more than 1,200 units delivered over a three to five-year period.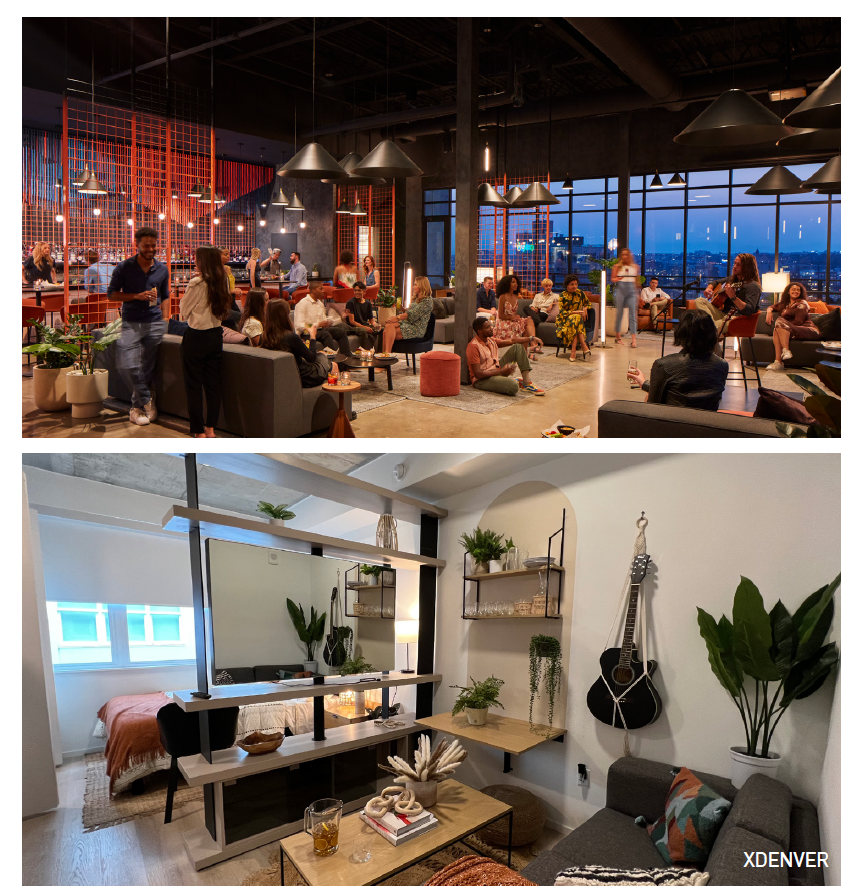 These properties have introduced a unique rental product to the Denver market that focuses on the social aspects of rental living and provides more of what they term a "Social Club Lifestyle." The idea is to give residents a nice place to live at a reduced cost, while providing significantly enhanced amenities (both in number and in scale) for residents to enjoy outside of their units, creating an even larger sense of community. It also provides residents with the opportunity to rent furnished units, which are scarce in today's apartment world. The initial focus was heavily on 4-bedroom, 4-bathroom apartments that are rented by the bedroom, but the unit mix has shifted more towards studios.

There is a significant focus on programming, including everything from innumerable in-person fitness classes, to concerts, comedy shows, and many other types of live events. This programming provides residents opportunities to meet others with similar interests in person in an increasingly digital world. Finally, there is a focus on co-working, which, while not uncommon at other new apartment properties, is taken to the next level in the number of options available to residents. In addition, the sheer size and volume of the amenities has also allowed developers to sell "club memberships." These memberships grant non-residents access to the co-working spaces at a price-point lower than other co-working options, while also allowing access to the many other amenities, including restaurants, a huge fitness area, and on-site classes and events.