Three Meaningful Ways to Support Victims of Colorado's Marshall Fire
Date posted
January 11, 2022
Hundreds of families were displaced by the Marshall Fire in Boulder County. Here are a few ways you can aid their recovery.
On Thursday, Dec. 30, the Marshall Fire ripped through Colorado's Front Range. Fueled by 100 mile per hour winds and drought conditions, the blaze spread quickly through Superior and Louisville, two densely populated towns in Boulder County. By Friday morning, it was the most devastating wildfire in state history, having destroyed more than nine hundred homes and businesses.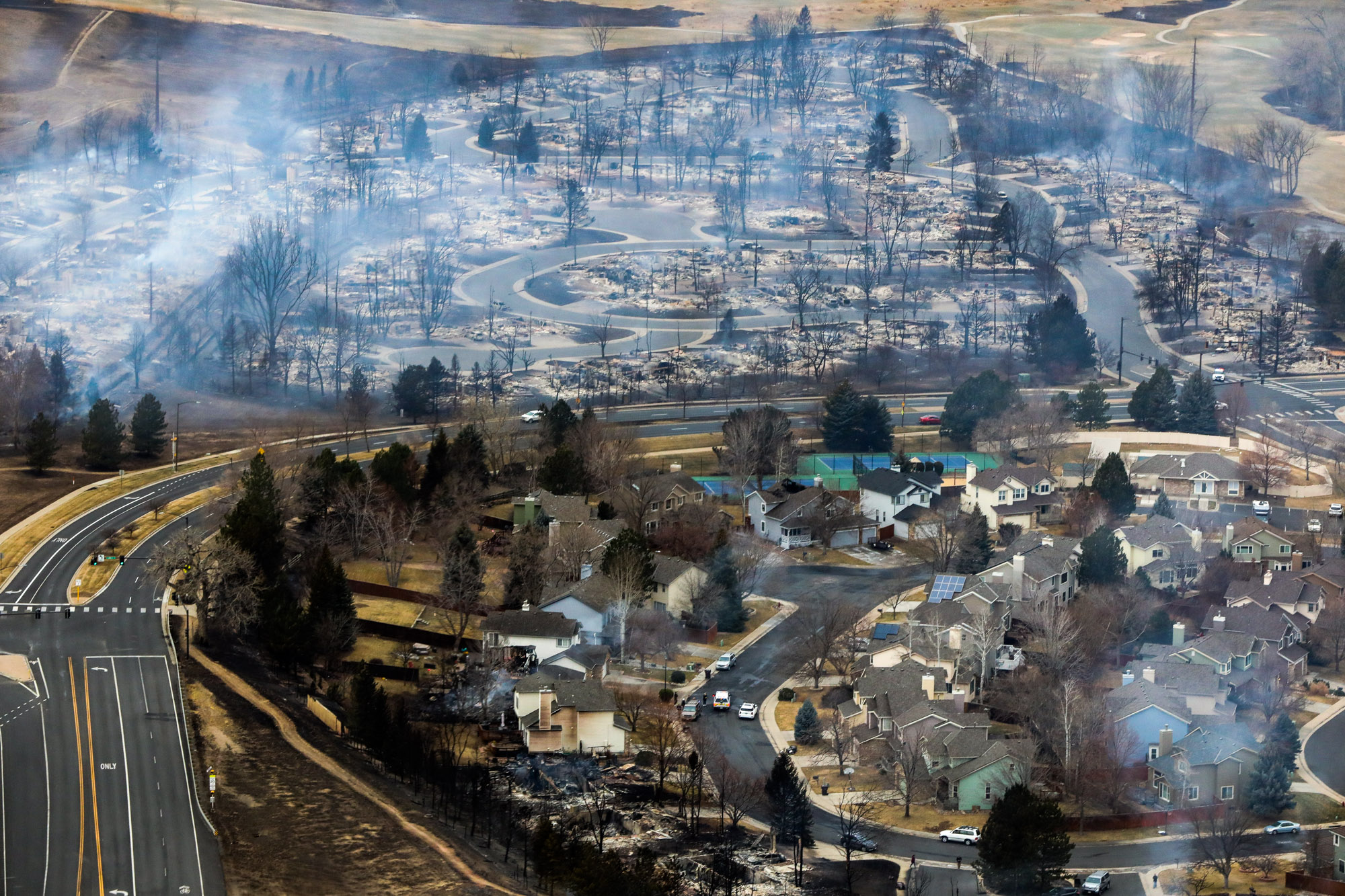 Photo courtesy Hart Van Denburg, Colorado Public Radio

More than 30,000 residents of Boulder County were evacuated, and thousands were left permanently displaced, their homes burned beyond repair. In the short term, some victims of the Marshall Fire may stay with friends and family or find hotels. Fairly quickly, though, these residents will need quality medium-term housing, and in a historically tight Denver market, vacant units are difficult to find.

Many are searching for ways to help their fellow Coloradans, whether that's providing temporary housing, offering financial relief or supporting the emergency service work of first responders. Thanks to the public-private partnership of several government agencies, housing associations and nonprofits, there are dozens of opportunities to assist the relief effort. Here are three ways the Apartment Association recommends helping victims of the Marshall Fire.
Replacement Housing
In 2022, Colorado's inventory of available rental units remains well below statewide demand. During Q3 2021, the vacancy rate in metro Denver was just 3.8%, a near-record low. Many of these vacant units are in the process of being 'turned,' or prepared for an incoming resident. Of all the vacant units in metro Denver, very few are available for rent and immediate move-in. In the housing market, fewer than 1,600 single-family homes and 600 condos are currently listed for sale in the whole of metro Denver. Whether a resident is looking to rent or buy, options are severely limited.

As displaced residents search desperately for replacement housing, many have lamented the difficulties they're confronting amid Colorado's historically constricted rental housing market. In a joint, public-private effort, several government agencies and rental housing associations have taken steps to support victims of the fire in their effort to find a temporary home.

The Colorado Apartment Association (CAA) launched a housing directory, listing vacant units available for immediate move-in in metro Denver. The directory will help families displaced by the Marshall Fire easily navigate Colorado's tight rental housing market, filtering between units based on location, size and price. In some cases, rental housing communities are offering discounted rents, free first months and waiving move-in fees.
Discounts vary by community. As of January 10, rental communities across Denver have listed more than 2,100 units on our directory. To view listings, visit www.caahq.org.

This directory was created in partnership with the Boulder Area Rental Housing Association (BARHA), which has worked diligently to help displaced families in Louisville and Superior. The BARHA housing directory lists vacant units available for immediate move-in across Boulder County. BARHA is also collaborating with local community partners, including the Estes Park Visitors Bureau, Boulder Convention & Visitors Bureau, Boulder Chamber, University of Colorado Boulder, Boulder area real estate agents, and the Red Cross to share the directory with all families in need. As of January 10, the directory listed more than 400 vacant units in Boulder County. To view listings, visit www.barhaonline.org

We encourage all rental housing providers in metro Denver and Boulder County to utilize these resources, posting their vacant listings and sharing the directories with friends and colleagues. Losing one's home is an impossibly difficult experience, and with thousands of Coloradans displaced, it is our responsibility to unite in support of them. We're grateful to all the housing providers offering discounts to residents in need, and we've overwhelmed by the response and generosity of our members.

Financial Relief
In addition to these housing directories, there are several charitable organizations working to support residents of Louisville and Superior. The Resident Relief Foundation (RRF), an organization with a long history of supporting residents experiencing financial disaster, launched a Colorado fund for renters suffering income loss during the COVID-19 pandemic last year. They will provide rental assistance grants directly to residents displaced by the Marshall Fire. RRF's work is incredibly valuable, and we encourage anyone with the financial means to contribute to their Colorado fund at www.residentrelieffoundation.org and click "Donate", and then "Colorado Apartment Association."

Additionally, the Apartment Association of Metro Denver has donated $25,000 to the American Red Cross' Marshall Relief fund, and is collecting donations from AAMD members through the Apartments Giving Back program. For all money raised through this program, AAMD will donate an additional 5% to organizations working to help those displaced by the Marshall Fire.

First Responders
The American Red Cross' chapters in Colorado also provide vital disaster relief services across the state, and over the next several months, the bulk of their efforts will be concentrated on devastated communities in Boulder County. To support the urgent humanitarian needs of displaced Coloradans, we recommend making a financial contribution to the American Red Cross in Colorado.

In the midst of a natural disaster, we all have a duty to do what we can to help those in need. For more information on how you can support victims of the Marshall Fire, please reach out via email to cdean@aamdhq.org.